Saturday September 16, 2023
Convenor: Gord South 519-343-5391
Date: Saturday September 16, 2023 at 12:00 pm
Theme: Around the World in 3 Fair Days (please keep in mind & decorate to the theme)
Registration: Please use registration button below.
Registration deadline: September 8, 2023
Parade Safety Guidelines for Floats:
HMAS-Parade-Safety-Guidelines-pdf-1

Parade route: Parade forms at Speare Seeds, 99 John Street N., Harriston line up starting 11:00 a.m. travels along Louise St, then south on Elora St, left on Young St to Harriston-Minto Arena Complex, 111 George St.S.
Results: Prize winners will be posted on arena office window. Prize money will be available after 3 p.m.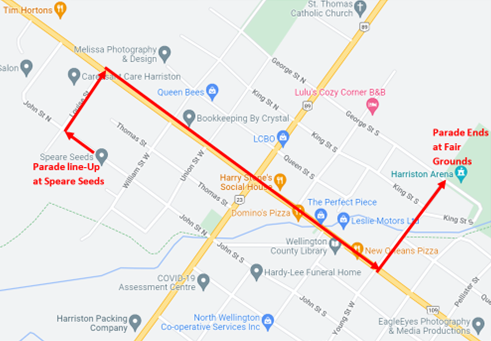 Classes:
Prizes: 1st: $7, 2nd: $5, 3rd: $3
Best decorated bicycle
Best decorated childs's wagon
Best clown Prizes: 1st: $7, 2nd: $6, 3rd: $5, 4th: $4, 5th: $3,others: $0
Best pet on a leash
Best pony
Best costumed rider & horse
Best parade theme – public school ages
Best parade theme – adult
Best parade theme – Service Clubs, Organizations or Family
Best collector auto Prizes: 1st: $20, 2nd: $15, 3rd: $10, 4th: $5,others: $0
Best collector tractor Prizes: 1st: $20, 2nd: $15, 3rd: $10,4th: $5, others: $0
Best demolition derby car Prizes: 1st: $20, 2nd: $15, 3rd: $10,4th: $5, others: $0Must be on a float
Best commercial Prizes: 1st: $20, 2nd: $15, 3rd: $10, 4th: $5,others: $0